Questions Regarding the Allergan Textured Breast Implant Recall
With the recent recall of Allergan textured implants, existing and potential implant patient have many questions about what this means for them. Noted Plano plastic surgeon, Dr. Landon S. Perry, provides answers to the common questions regarding the recent recall of Allergan's textured implants.
What is the Allergan Textured Breast Implant Recall Based on?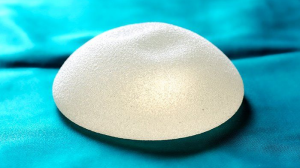 The FDA's recall of the Allergan Textured Breast Implant is based on the potential relationship between textured breast implants and a type of lymphoma that can occur in the scar tissue (capsule) around implants.  
The condition is referred to as breast implant associated anaplastic large cell lymphoma or BIA-ALCL.  This condition typically presents as a swollen breast, indicating fluid around the implant, or a mass in the breast. The diagnosis is made by testing the fluid or mass.
At this time, no cases of BIA-ALCL have been confirmed with smooth breast implants.
Know the Type of Breast Implant you Have
Since this recall I have received many calls from existing implant patients asking "what type of implants do I have?"  There are 3 ways to find this out.  1) Your surgeon will typically give you a card after surgery that has your implant information on it.  It should indicate whether the implants are smooth or textured.  2) Your surgeon should also have a record of the implants that you have.  You can call their office and they should have that information.  3) If neither of those routes are successful, you can contact the implant companies directly (Allergan, Mentor, Sientra) to see if you are registered in their database.  Each company's contact information is available on the Internet.
What Should You Do If You Have the Textured Breast Implants?
Secondly, patients would like to know what to do if they have textured breast implants in place.  As mentioned earlier, there has been a recall on only Allergan's textured breast implants (neither Mentor's or Sientra's textured implants are being recalled at this time).  What this means is that Allergan is no longer able to sell their textured implants, but the FDA is not suggesting that asymptomatic patients have their textured implants removed. 
The recommendation from the FDA is that patients meet with their plastic surgeon, have a conversation with their surgeon about their situation, and then make an informed decision as to what is best for them.  I agree with that wholeheartedly and it is how I manage my patients.
What is the Risk?
In making their decision, the numbers that patient should consider are that the risk of developing BIA – ALCL is somewhere between 1:3000 and 1:30,000. With the Allergan textured implants, the risk is thought to be closer to the 1:3000 number.
If an asymptomatic patient decides to remove their implants, the literature indicates that the implant should be removed but there does not appear to be any advantage to removing the surrounding scar tissue as far as the risk of future BIA-ALCL in that patient.
In a symptomatic patient, the implant, surrounding capsule, and mass if present, should be removed.  In both asymptomatic and symptomatic patients the implant can be replaced with a smooth implant if the patient desires.
Is BIA-ALCL Treatable?
When recognized in a timely fashion, BIA – ALCL is very treatable and has a good prognosis. This is why it is important for the patient to have a dialogue concerning this disease with their plastic surgeon and understand how this disease presents.
As far as patients who may have had textured expanders or textured implants in the past, the risk of BIA-ALCL seems to be extremely low.  These patients should also be aware of the above-mentioned signs of BIA-ALCL and if they appear notify their plastic surgeon immediately.
What Should You Know About Breast Implant Illness?
Additionally with the concern regarding BIA – ALCL, breast implant illness has again become a talking point among breast implant patients. The signs and symptoms of this condition date back to the 1980s and 90s when gel implants were recalled.  Since that time breast implants have been one of the most studied medical devices in the history of medicine.  These extensive studies have revealed no evidence that these devices seemed to contribute to this type of condition.  However, if a patient feels as though their implants are causing them problems, it is certainly reasonable to remove them. This may or may not be covered by insurance depending on the individual situation.
What Should I Do?
I would be glad to discuss any of your concerns regarding your implants so that you can make an informed decision as to the management of your implants in the future. You can call my office to schedule a consultation at (972) 981-7940.